Where can you buy our product
This is a new area of the site and will show the public where our product is sold. For example, Storage Box, Payless, The Warehouse, Mitre 10, Hammer Hardware, Odderings, Palmers, Kings Plant Barn etc. It is also available through online shopping sites such as storagebox.co.nz. EPI doesn't sell direct to the public (except promo products).

10 Litre Cube Jerry Can
9910N (natural)
This is the new 10 Litre Jerry Can by EPI Plastics. Natural, White, Black available.
Pack size: box of 12.
Includes bung and cap.
.
New Product - 20 Litre Cube Jerry Can
This is the new 20 Litre Jerry Can. It is now in full production.

This is a stacking cube shape. Calibrated. TE (tamper evident) 58mm cap. Plus comes with a bung at the bottom. At present it is going through the DG (dangerous goods) UN certification process.

Assembled dimensions -
Length 54cm
Width 24cm
Height 31cm (top of handgrips), 25cm to the top of the back (seat).

Buy Kiwi Made
Tommy Turtle Ride On Trike
9502
Wow. Check out this new product from EPI Plastics, bought to you by the people that made the famous "Dune Buggy" ride on trike. Made in New Zealand. Individually hand painted eyes by young University students who work for me. Made from heavy duty plastic (HDPE) with strong 6mm diameter steel axles. Built to last in good Kiwi style. Fully guaranteed and because it is built in NZ spare parts are available.
Buy R
etail online now

18.5cm x 18.5cm bat surface. Length 34cm
New Product - Padder Tennis Bat Paddle
Code T3898
It's back. After many years in a barn, EPI has restored this old toy mould. It is back in full production.
Pack size = 12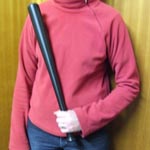 New Product - Baseball Bat Childrens
T108
Pack size=12